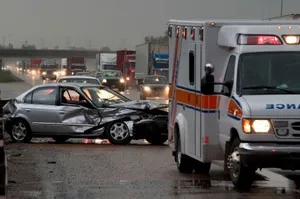 When you have been in an auto accident, seeing a chiropractor is one of the first things you should do. Auto injury chiropractic can help with the debilitating results of whiplash. Dr. Speros Tryphonas of the Professional Chiropractic and Rehab Center in Virginia Beach, VA offers the chiropractic services you need after an auto accident.
Spinal adjustment
Whiplash snaps the neck back and forth, which can lead to serious repercussions. Not only does it stretch all the soft tissue, but it can misalign the vertebrae in the neck and the back. This can lead to pain that extends to other areas, such as the shoulders and arms. By getting spinal adjustments as soon as possible after an auto accident, you can help both your vertebrae and the soft tissue to recover more quickly and save yourself pain.
Spinal decompression
Spinal decompression stretches the spine. It is used when a disc has bulged or herniated. When the disc moves outside its designated location, it often presses on a nerve and this causes pain. Spinal decompression can help the disc to go back into that spot where it belongs without having to resort to surgery.
Acupuncture
Acupuncture is a known therapy for pain relief and there is usually a lot of stiffness and pain after an auto accident. The theory of acupuncture is that energy in the body flows through meridians. When flow is disrupted, it puts things out of order in the body. Pressure is put on points in the body to release the disruption. The pressure can be applied with tiny needles, electric pulses, lasers or magnets. They all give the same results.
Laser therapy
Laser therapy uses light waves to help to reduce inflammation and pain in affected areas. The doctor uses a handheld device to apply the laser and help to promote healing.
Massage therapy
Massage therapy helps other chiropractic therapies work more effectively. Auto injury chiropractic involves helping to relax the muscles in the body so that everything works better. Especially after an auto accident, feeling still and in pain is common.
Contact Dr. Tryphonas of the Professional Chiropractic and Rehab Center in Virginia Beach, VA when you need auto injury chiropractic. We can be reached through our website or on the phone at 757-424-2626.